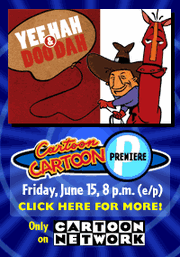 Yee Hah & Doo Dah in Bronco Breakin' Boots
was a short created by Kenny Duggan and produced by Pitch Productions for the
Cartoon Network
. The short premiered on
Cartoon Cartoon Fridays
on June 15, 2001 as one of ten contenders for Cartoon Network's
Big Pick 2
, the winner of which would become the next Cartoon Cartoon. The short did not win The Big Pick, and was not picked up by Cartoon Network to become a full-length series.
Plot
A cowboy and his horse, Yee Hah and Doo Dah, reside in Manhattan's Central Park after having moved from Texas. Yee Hah enjoys the city life until he discovers that the city pavement is giving him a dreadful blister. Much to Doo Dah's dismay, he decides to stop walking and ride his horse everywhere, thereby cramping Doo Dah's New York lifestyle. Eventually, Doo Dah finds the real culprit behind Yee Hah's sore feet: the branding iron, tractor, etc. that Yee Hah has been hiding in his boots.
Characters
Main Roles
Minor Roles
Cast
Rafael Ferrer - Yee Hah
Thomas Hayden Church - Doo Dah
Credits
Yee Hah & Doo Dah in Bronco Breakin' Boots
Created by: Kenny Duggan
Directed by: Chris Gilligan
Produced by: Marie Poe
Written by: Chris Gilligan and Kenny Duggan
Storyboard by: Stephen DeStefano
Music by: Kevin Walsh
Voices: Rafael Ferrer and Thomas Hayden Church
Casting by: Donald Case Casting, Inc.
Voice Talent Director: Melissa R. Hill
Timing Director: Frank Gresham
Animation Artists: Jonathon Royce and Bill Presing
Background Design: Freya Tanz
Background Color: Margaret Frey
Recording & Sound Effects: Penny Lane Studios
Overseas Animation: Rough Draft Studios
Overseas Production Manager: Kim Chul-Ho
Overseas Director: Won Dong-Gun
Overseas Animation, Layout, & Model Checking: Wong Dong-Gun, Lee Sung-Hee, Lee Yoon-Ju
Overseas Digital Computer: Jung Woo-Sung, Na Se-Ho, Jo Hyun-Wook, Kim Hyun-Gyung
Special Thanks To: Kenneth Cooke, Josh Lebowitz, Aaron Dain
Executive Producer: Russel A. Dube
Executive In Charge Of Production For Cartoon Network: Linda Simensky and Amy Handler
© 2001 Cartoon Network
All Rights Reserved
A Pitch Production
Cartoon Network Studios
External Links
Community content is available under
CC-BY-SA
unless otherwise noted.