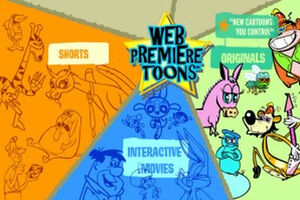 Web Premiere Toons
were interactive cartoons created by
Cartoon Network
and viewable online at cartoon network.com. These cartoons were interactive, meaning they were controlled by the user. Web Premiere Toons were created in 1999 and "Pink Donkey and the Fly" was the first to premiere.
Initially, World Premiere Toons consisted of only original shorts. However, they soon expanded to include interactive movies and shorts that featured classic cartoon characters such as Bugs Bunny and Fred Flintstone as well as Cartoon Cartoon characters like Dexter and the Powerpuff Girls.
Web Premiere Toons
Pink Donkey and the Fly
Pink Donkey's Coot Country
B. Happy
Germ Town
Banana Splits
Prickles the Cactus
The Marshmallow Money Show
Interactive Movies & Shorts
Courage in Scary Monsters
Powerpuff Rumble
The Big Bravo
Dexter's Lab-O-Matic
A Corny Concerto
Duck For Hire
Road To Victory
Hollyrock Fred
Brainswitch: Baba Looey & Morocco Mole
Bugs Bunny
Herculoids
Powerpuff Girls
Atom Ant
Sir Huck
Saturday Night Fred
Time E-Lapse
Fight or Flea
Happy Hiro's Used Giant Robots
The Gloop and Gleep Group
ZooForce (alt title: Zooniverse) ~ Only found in Video Format.
Jim Fu
Neon Grid
Groove Monkee
Journey to the Center of My Dog's Head (Wendell & Wuggums #1)
Uncle Squirly's Treehouse
OVERDUE
The Great Big Cartoony Club Show
Switcheroo
Fidgety Midgety
Peter Potamus in Fee Fi Fo Fun
Rabbit Dudes
Let's Have Fun Club (alt title: Let's Have Fun with Mike!)
Mr. Rhombus
Starr: The Soda Pop Genie
Jet Jumbo
1st Annual Evil Awards
Pillowman
Perfect Pet
Master Mind (alt title: Mastermind, Henchman, and The Other Guy)
Deputy Duck
Bickleschnotz County Flying Club
Los Adventures Del Solo
Happy, Snappy 'Tude
Champ and Slump
Bird, Bug, Goat
Jonny Quest
Philo
Electro Car
Tiki Trouble (Wendell & Wuggums #2)
Acrobatic Spelling
How WPT are made
The Chopper Bunch
Monkey Sea (Groove Monkee #2)
Vampires from Outer Space
Yogi Bear in Lullabye-bye Bear
Captain Distraction
Butch Cassidy
Planet of the Magillas
Mantelope (alt title: Mantelope Half Man-Half Antelope)
A Meal of Two Cities
Red Light Green Light
The Pitch (alt title: a world of characters in The Pitch)
Squirrel Interrupted (Uncle Squirly #2)
Penelope Pitstop GT
Little Doggy (alt title: "Get A Long, Little Doggy")
The Creep Next Door (Wendell & Wuggums #3)
The Funtastic Four
Hermann and Vermin
The Science Club
The Great Big Cartoony Club says "A Quick Little Good-bye" (The Great Big Cartoony Club #2)
Hong Kong Phooey
Sugar Ray Music Video - "When It's Over"
Eden's Crush Music Video - "Love This Way"
Game Over (Wendell & Wuggums #4)
Community content is available under
CC-BY-SA
unless otherwise noted.