The Toonix look was the 5th look in Cartoon Network Latin America, preceding with CN City era by Animal Logic. They are similar to United States' Noods but they're smaller, they don't have ears, and the head looks like a cube.
They were originally used on the website of Cartoon Network Latin America. After that, Cartoon Network Latin America used the Toonix look from August 5, 2010 to September 3, 2012.
Toonix are all white with square heads, small black eyes, and a mouth. Like Noods, they take on the appearance of numerous characters from shows that are currently airing. A lot of the Toonix bumpers were exactly the same as Nood bumpers, except the Nood character models are replaced by the Toonix ones.
Their counterparts in United States was the Noods.
From January 1 to July 1, 2012, the white 2004 logo on each Toonix bumper were replaced with the 2010 logo, althrough the 2010 logo can't be painted on (also it was first seen on the Looney Tunes bumpers with the original 2004 logo).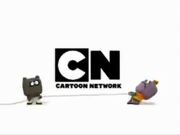 The Toonix look ended on September 3, 2012, and it was rebranded to the "CHECK it" look.
It returned in Crossover Nexus where a graffiti version of a Toonix is shown in CN City.
Toonix in Asia
Toonix's were introduced in late 2010 on the Asia Pacific feeds of Cartoon Network. It serves as for various programming blocks (such as Toonilicious) and later introduced as avatars for the CN Club members online.
Since during their CHECK it (It's a Fun Thing!) rebrand on October 1, 2011, the Toonilicious block uses a similar look from Latin America used as promos, including some bumpers during airing this programming block.
Trivia
A Toonix graffiti appeared in the OK K.O.! Let's Be Heroes episode, Crossover Nexus.
Gallery