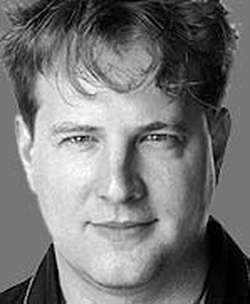 Tom Warburton (born August 31, 1968 and often credited as Mr. Warburton) is an American cartoonist and animator. Warburton was born in Pennsylvania and raised in the Philadelphia area. He attended Kutztown State College before moving to New York City to become an animator. He is best known for creating the animated series Codename: Kids Next Door for Cartoon Network. Prior to that he worked as a director on another Cartoon Network series Sheep in the Big City.
The pilot episode of Codename: Kids Next Door aired during Cartoon Network's Big Pick Weekend in August 2001. That weekend, Cartoon Network presented 10 animated shorts and let viewers pick which one would become the next Cartoon Cartoon series. Codename: Kids Next Door won in a landslide.
From 1995 until 1999, Warburton served as lead character designer for Disney's animated series Pepper Ann. He also worked with J.J. Sedelmaier Productions, starting in 1992. Warburton worked as an animator, director and designer on "TV Funhouse," which appeared regularly during Saturday Night Live. Other projects with J.J. Sedelmaier included serving as head designer on the first season of Beavis and Butthead and as an animator and director on Schoolhouse Rock. He is also the author of the book series A Thousand Times No. He currently works on the Disney animated series Fish Hooks, The 7D, and Muppet Babies.
Community content is available under
CC-BY-SA
unless otherwise noted.