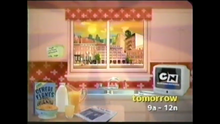 The Weekend Morning Block (also known as Cartoon Network's Weekend Morning Block) was a weekend morning block that aired from Early 2005 to Late 2005 at 9:00 AM to 12:00 PM. The weekend block includes Codename: Kids Next Door, Foster's Home For Imaginary Friends and The Grim Adventures of Billy & Mandy. The block is similar to The Saturday Morning Block and Cartoon Cartoons in the Morning.
Schedule
9:00 AM - KND
9:30 AM - KND
10:00 AM - Foster's
10:30 AM - Foster's
11:00 AM - Billy & Mandy
11:30 AM - Billy & Mandy
Community content is available under
CC-BY-SA
unless otherwise noted.