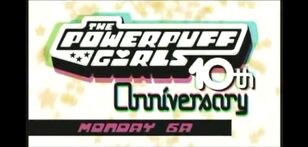 The Powerpuff Girls 10th Anniversary was a special fourteen-and-a-half-hour Powerpuff Girls marathon that aired on January 19, 2009 from 6am-8:30pm during Martin Luther King Jr. Day. The marathon celebrates the 10th anniversary of The Powerpuff Girls.
The marathon featured randomly-selected episodes from 6am-12pm, 10 episodes with the Powerpuff Girls's worst enemies from 12-5pm, and creator Craig McCracken's top 10 favorite episodes from 5-8pm, leading up to the premiere of The Powerpuff Girls Rule!!! at 8pm.
Schedule
6:00am - Insect Inside/Powerpuff Bluff
6:30am - Town and Out/Child Fearing
7:00am - Buttercrush/Fuzzy Logic
7:30am - Stuck, Up, Up and Away/Schoolhouse Rocked
8:00am - Birthday Bash/Too Pooped to Puff
8:30am - Slave the Day/Los Dos Mojos
9:00am - A Very Special Blossom/Daylight Savings
9:30am - Imaginary Fiend/Cootie Gras
10:00am - Fallen Arches/The Mane Event
10:30am - Paste Makes Waste/Ice Sore
11:00am - Criss Cross Crisis
11:30am - Powerprof
12:00pm - Nano of the North
12:30pm - Just Desserts/Supper Villain
1:00pm - You Snooze, You Lose/Geshundfight
1:30pm - Power Lunch/Telephonies
2:00pm - Impeach Fuzz/Shotgun Wedding
2:30pm - Something's a Ms./Mommy Fearest
3:00pm - Bought and Sold/Mo Job
3:30pm - Speed Demon/Tough Love
4:00pm - The Boys are Back in Town
4:30pm - Slumbering with the Enemy/Mr. Mojo's Rising
5:00pm - Mime for a Change/Monkey See, Doggie Do
5:30pm - Twisted Sister/Meat the Beat Alls
6:00pm - Uh Oh Dynamo
6:30pm - Boogie Frights/The Powerpuff Girls' Best Rainy Day Adventure Ever
7:00pm - The Rowdyruff Boys
7:30pm - Beat Your Greens/Bubblevicious
8:00pm - The Powerpuff Girls Rule!!!
Gallery
Community content is available under
CC-BY-SA
unless otherwise noted.