The Heroic Quest of the Valiant Prince Ivandoe is a Danish-British animated television series created by Christian Bøving-Andersen and Eva Lee Wallberg.
On June 15, 2020, it was announced that Cartoon Network has ordered a long-form Ivandoe series, which will be comprised of twenty 11-minute episodes.[1]
Plot
The series follows the adventures of Ivandoe, the young buck (in fact a white-tailed deer or a brown-furred young fawn), the young prince of the forest whose father, The Mighty Stag, sends him on a quest for the magical Golden Feather of the fearsome Eagle King, Atticus. Ivandoe and his dedicated squire, a small mountain blue bird named Bert, discover new and mysterious areas of the forest and an array of peculiar creatures along the way.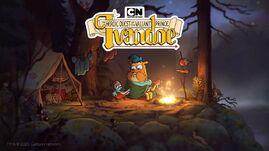 Characters
Prince Ivandoe - Ivandoe is a 13/14 year old brown-furred fawn of short height and a round body. While his fur is primarily brown, he has a lighter brown underbelly and eye markings, as well as lighter brown spots on his back. He has black eyes, a tiny black nose, and a small tuft of brown hair. He also has two short yellow antlers and a small tail, and he uses his wooden sword as his only weapon to fight enemies in the forest. He wears a short-sleeved, puffy sleeved blue tunic with a lighter blue collar and lighter blue sleeves, as well as a brown belt with a gold circular buckle. In a teaser image, Ivandoe can be seen being carried by his bird squire, Bert, in front of a wooden bridge, preparing to fight gnomes. Ivandoe is known as the fearless, charming, brave, adventurous, all-mighty prince of the forest. Although, in reality, he's delusional, wimpy, narcissistic, and self-centered. Sometimes Ivandoe loves turnips and ladies (pretty girls).
Bert - Bert is an 11/12 year old mountain blue bird of a short height and a round body. He has black eyes, a beak, wings, and a red hat, though the first teaser trailer, he is seen with a blue beanie. Bert is clever, quick-witted, wise, and extremely loyal to his ungrateful master. In fact, Ivandoe is so strict with him, that he fired him for accidentally burning his turnips. Without Bert, Ivandoe would certainly be nothing. Despite the ignorance, arrogance, and rudeness from his master; he would never ever leave Ivandoe's side.
The Mighty Stag
Eagle King/Atticus
Sassy Gnomes
Prince Svan
Jezebel
Poe
Cupcake
Princess Syllabob
Reginald
External Links
Ivandoe on Cartoon Network UK's Website
Shorts on CN UK YouTube Playlist[1]
Cartoon Network Original Series