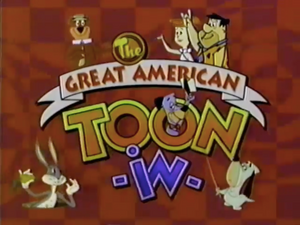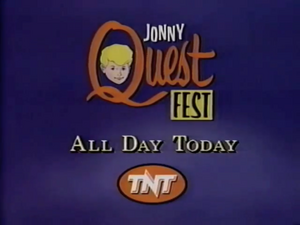 The Great American Toon-In
was a Black Friday marathon event that ran simultaneously on Turner's three entertainment channels, TBS, TNT and the 
Cartoon Network
to celebrate the newly created Cartoon Network.
The Great American Toon-In
, sponsored by Hasbro, aired Friday, November 27, 1992, from 6:00am to 8:30pm on TBS, and from 6:00am to 8:00pm and the Cartoon Network.
[1]
TBS hosted the Bugs-a-Thon, a 12-hour marathon of 52 classic Bugs Bunny cartoons, followed by The Jetsons Meet the Flintstones and Dr. Suess' How the Grinch Stole Christmas. TNT presented a Jonny Quest Fest, a 14-hour marathon of Jonny Quest episodes. Finally, the Cartoon Network hosted Cartoons A-Z, featuring animated stars from A to Z.[1]
The marathon was followed by a second marathon event in 1993, titled The Great International Toon-In. the International Toon-In expanded upon the success of the American Toon-In, and included several international Turner channels: Cartoon Network Latin America, Cartoon Network Caribbean, TNT Latin America, TNT Europe and Cartoon Network Europe.[2]
References
↑ 1.0 1.1 King, Susan (November 22, 1992). "Silly Wabbits and Quests for Adventure". latimes.com. https://web.archive.org/web/20151016182247/http://articles.latimes.com/1992-11-22/news/tv-1902_1_jonny-quest

. Retrieved on September 6, 2017

.

 

↑ "Hasbro to sponsor TBS cartoon 'Toon-In'". upi.com. October 27, 1993. http://www.upi.com/Archives/1993/10/27/Hasbro-to-sponsor-TBS-cartoon-Toon-In/1311751694400/?spt=su

. Retrieved on September 6, 2017

.

 
Community content is available under
CC-BY-SA
unless otherwise noted.