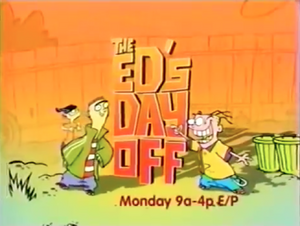 The Ed's Day Off
Marathon was a special 7-hour
Ed, Edd n Eddy
marathon that aired on
Cartoon Network
on Monday, January 19, 2004 (Martin Luther King Jr. Day) from 9:00 AM to 4:00 PM.
Episodes[1]
"The Luck of the Ed"
"Wish You Were Ed"
"Ed, Pass it On"
"Momma's Little Ed"
"If It Smells Like and Ed, Part 1"
"If It Smells Like and Ed, Part 2"
"Ed in a Half Shell"
"X Marks the Ed"
"Fa, La, La, La Ed"
"From Here to Ed"
"Cry Ed"
"High Heeled Ed"
"Honor Thy Ed"
"Hot Buttered Eds"
"Scrambled Ed"
"Dueling Eds"
"Rambling Ed"
"Dim Lit Ed"
"Home Cooked Ed"
"Once Upon an Ed"
"Don't Rain on my Ed"
"For Your Ed Only"
"Once Bitten, Twice Ed"
References
↑ Baisley, Sarah (January 19, 2004). "Ed, Edd n Eddy Ed's Day Off Marathon Jan. 19". awn.com. http://www.awn.com/news/ed-edd-n-eddy-eds-day-marathon-jan-19

. Retrieved on February 11, 2015

.

 
Community content is available under
CC-BY-SA
unless otherwise noted.