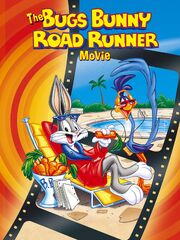 The Bugs Bunny/Road Runner Movie
 (original working title: 
The Great American Chase
) is a 1979 
Looney Tunes
 film with a compilation of classic Warner Bros. Cartoons shorts and newly animated bridging sequences, hosted by Bugs Bunny. The bridging sequences, which had been produced in 1978, show Bugs at his home, which is cantilevered over a carrot-juice waterfall (modeled on Frank Lloyd Wright's "Fallingwater" house in Bear Run, Pennsylvania).
Early on, Bugs discusses the wild villains he had co-starred with in his cartoons, which is followed by a tongue-in-cheek sequence depicting the history of comedy and a scene in which Bugs discusses his "several fathers". The latter scene was written by Chuck Jones as a way to debunk fellow animation director Robert Clampett's claims throughout the 1970s that he alone created Bugs, and Clampett's name is notably missing from Bugs's list, as a result of the conflict between Jones and Clampett. The movie Bugs Bunny: Superstar featured Bob Clampett, and is another compilation of cartoon shorts, probably the first to examine the history of Warner cartoons, which under-played Bugs' other 'several fathers' and is part of the mentioned conflict.
All of the shorts featured were directed by Chuck Jones.
The combination of classic animated footage along with new animation would become the template for the theatrically released Looney Tunes movies for this film up until Daffy Duck's Quackbusters released in 1988.
Community content is available under
CC-BY-SA
unless otherwise noted.