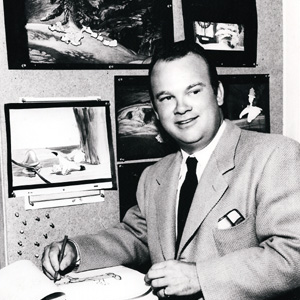 Frederick Bean "Tex" Avery
(February 26, 1908 – August 26, 1980) was an American animator, cartoonist, voice actor and director, famous for producing animated cartoons during The Golden Age of Hollywood animation. He did his most significant work for the Warner Bros. and Metro-Goldwyn-Mayer studios, creating the characters of Bugs Bunny, Daffy Duck, Droopy, Screwy Squirrel, George and Junior, and Chilly Willy into the personas for which they are remembered.
Avery's style of directing encouraged animators to stretch the boundaries of the medium to do things in a cartoon that could not be done in the world of live-action film. An often-quoted line about Avery's cartoons was, "In a cartoon you can do anything."[2] He also performed a great deal of voice work in his cartoons, usually throwaway bits (e.g. the Santa Claus seen briefly in "Who Killed Who?"), but Tex also voiced Junior from George and Junior and occasionally filled in for Bill Thompson as Droopy.
In 1996 Cartoon Network produced an animated showcase series that featured MGM and WB cartoons created by Avery, titled The Tex Avery Show. The series aired on the network until June 2004, when it was moved to Cartoon Network's sister network Boomerang.
Cartoons directed or co-directed by Tex Avery
Warner Bros.
Year
Title
1935
Gold Diggers of '49
1936
Plane Dippy
Page Miss Glory (film)
The Blow Out
I'd Love to Take Orders from You
I Love to Singa
Porky the Rain Maker
The Village Smithy
Milk and Money
Don't Look Now
1937
Porky the Wrestler
Picador Porky
I Only Have Eyes for You
Porky's Duck Hunt
Uncle Tom's Bungalow
Ain't We Got Fun
Egghead Rides Again
A Sunbonnet Blue
Porky's Garden
I Wanna Be a Sailor
The Sneezing Weasel
Little Red Walking Hood
1938
Daffy Duck & Egghead
The Penguin Parade
The Isle of Pingo Pongo
A Feud There Was
Johnny Smith and Poker-Huntas
Daffy Duck in Hollywood
Cinderella Meets Fella
The Mice Will Play
1939
Hamateur Night
A Day at the Zoo
Thugs with Dirty Mugs
Believe It or Else
Dangerous Dan McFoo
Detouring America
Land of the Midnight Fun
Fresh Fish
Screwball Football
1940
The Early Worm Gets the Bird
Cross Country Detours
The Bear's Tale
A Gander at Mother Goose
Circus Today
A Wild Hare
Ceiling Hero
Wacky Wild Life
Of Fox and Hounds
Holiday Highlights
1941
The Crackpot Quail
Haunted Mouse
Tortoise Beats Hare
Hollywood Steps Out
Porky's Preview
The Heckling Hare
Aviation Vacation
All This and Rabbit Stew
The Bug Parade
The Cagey Canary - Planned, but completed by Bob Clampett
1942
Aloha Hooey - Planned, but completed by Bob Clampett
Crazy Cruise - Planned, but completed by Bob Clampett
Paramount
Year
Title
1941
Speaking of Animals Down on the Farm
Speaking of Animals Down in a Pet Shop
Speaking of Animals Down in the Zoo
MGM
Year
Title
1942
Blitz Wolf
The Early Bird Dood It!
1943
Dumb-Hounded
Red Hot Riding Hood
Who Killed Who?
One Ham's Family
What's Buzzin' Buzzard?
1944
Screwball Squirrel
Batty Baseball
Happy-Go-Nutty
Big Heel-Watha
1945
The Screwy Truant
The Shooting of Dan McGoo
Jerky Turkey
Swing Shift Cinderella
Wild and Woolfy
1946
Lonesome Lenny
The Hick Chick
Northwest Hounded Police
Henpecked Hoboes
1947
Hound Hunters
Red Hot Rangers
Uncle Tom's Cabaña
Slap Happy Lion
King-Size Canary
1948
What Price Fleadom
Little 'Tinker
Half-Pint Pygmy
Lucky Ducky
The Cat That Hated People
1949
Bad Luck Blackie
Señor Droopy
The House of Tomorrow
Doggone Tired
Wags to Riches
Little Rural Riding Hood
Out-Foxed
The Counterfeit Cat
1950
Ventriloquist Cat
The Cuckoo Clock
Garden Gopher
The Chump Champ
The Peachy Cobbler
1951
Cock-a-Doodle Dog
Daredevil Droopy
Droopy's Good Deed
Symphony in Slang
Car of Tomorrow
Droopy's Double Trouble
1952
Magical Maestro
One Cab's Family
Rock-a-Bye Bear
1953
Little Johnny Jet
T.V. Of Tomorrow
The Three Little Pups
1954
Drag-a-Long Droopy
Billy Boy
Homesteader Droopy
The Farm of Tomorrow
The Flea Circus
Dixieland Droopy
1955
Field and Scream
The First Bad Man
Deputy Droopy
Cellbound
1956
Millionaire Droopy
1957
Cat's Meow
Walter Lantz
Year
Title
1954
Crazy Mixed Up Pup (1954)
I'm Cold (1954)
1955
The Legend of Rockabye Point (1955)
Sh-h-h-h-h-h (1955)
Community content is available under
CC-BY-SA
unless otherwise noted.