Super Adventures

Launched

October 1, 1992[1]

Defunct

1998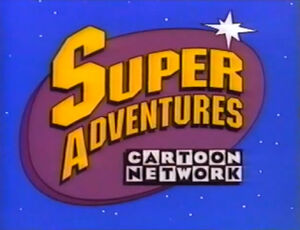 Super Adventures was a Cartoon Network block that first aired on October 1, 1992 and last aired in 1998. Super Adventures presented action-oriented cartoons like Space Ghost, Birdman, and Fantastic Four, among many other Hanna-Barbera/Ruby-Spears action series. It aired on weekday afternoons, and also had a weekend afternoon counterpart known as Super Adventures Saturday.
In 1995, Super Adventures was replaced with a similar block called Afternoon Adventures, but later returned and aired until 1998, even co-existing with Toonami at one point.
Programming
Jana of the Jungle

Mighty Man and Yukk

Superman

Thundarr the Barbarian
Gallery
Super Adventures Saturday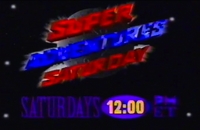 Super Adventures Saturday was the weekend version of Super Adventures which also ran from 1992 to 1994 and again presented action-oriented cartoons, all of which are exactly the same as its weekday counterpart.
References