Sealab 2020
is an American animated television series produced by
Hanna-Barbera Productions
. The show premiered on NBC on September 9, 1972. The series aired its 13th and final episode on December 2, 1972, with three episodes unaired. The series appeared in reruns on USA Network as part of its "USA Cartoon Express" programming block in the 1980s and on
Cartoon Network
from 1992-2000. As with most Hanna-Barbera series, the show is in occasional rotation on
Boomerang
, the TV channel that owns the Hanna-Barbera archives.
Overview
The series takes place at Sealab, an underwater research base based on the Challenger Seamount (an underwater mountain). Commanded by Captain Murphy, Sealab was home to 250 people, and was dedicated to the exploration of the seas and the protection of marine life.
Among other things, the crew of Sealab faced such challenges as attacks from sharks and giant squids, potential environmental disasters, and threats to Sealab and marine life from shipping.
Cast
Ross Martin - Dr. Paul Williams
John Stephenson - Captain Michael Murphy
Josh Albee - Robert Murphy
Pamelyn Ferdin - Sally Murphy
William Callaway - Lieutenant Sparks
Jerry Dexter - Hal
Ann Jillian - Gail
Ron Pinkard - Ed
Olga James - Mrs. Thomas
Gary Shapiro - Jamie
Episodes
Season 1
"Deep Threat" - September 9, 1972
"Lost" - September 16, 1972
"Green Fever" - September 23, 1972
"The Singing Whale" - September 30, 1972
"The Shark Lover" - October 7, 1972
"The Basking Shark" - October 14, 1972
"Where dangers Are Many" - October 21, 1972
"Backfire" - October 28, 1972
"The Deepest Dive" - November 4, 1972
"The Challenge" - November 11, 1972
"Collision of the Aquarius" - November 18, 1972
"The Capture" - November 25, 1972
"The Arctic Story" - December 2, 1972
Unaired Episodes
"Pilot" - Unaired
"S.O.S.: Sealab Ocean Signal" - Unaired
"Utopia of Cassidy" - Unaired
Adult Swim Parody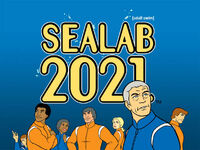 Sealab 2020 was parodied by the Adult Swim series Sealab 2021 from 2001 to 2005. The parody featured the same characters and some of the same animation from the original series. However, Sealab 2021 had a comedic tone and featured different voice actors.
Home Release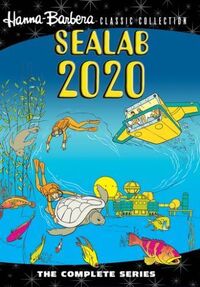 On May 22, 2012, Warner Archive released Sealab 2020: The Complete Series on DVD as part of their Hanna–Barbera Classics Collection. This is a manufacture-on-demand (MOD) release, available exclusively through Warner's online store and Amazon.com.
The pilot episode "Deep Threat" is also included in the Warner Bros. Saturday Morning Cartoons: 1970s Vol. 2 DVD set.
Community content is available under
CC-BY-SA
unless otherwise noted.