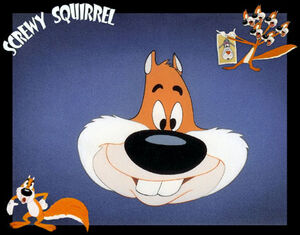 Screwy Squirrel Day
was a special 12-hour April Fools marathon that aired on April Fools' Day, 1997, on
Cartoon Network
. From 6:00 AM to 6:00 PM, Cartoon Network ran (over 60 times!) an edited version (with a shot cut out because it had a blackface gag) of the 1944
Screwy Squirrel
cartoon "Happy-Go-Nutty," as part of an April Fool's Joke that saw the cartoon character take over the channel.
At 6:00 PM, the madness stopped and viewers were thanked for their patience, and told that regular programming was about to resume... with the Screwy Squirrel Marathon, coming up next...but thankfully that didn't happen. Instead "Haredevil Hare" started a 6-hour "makeup session" filled with classic Warner Bros. cartoons to apologize for the inconvenience viewers endured (6:00 PM to 12:00 AM). Even after the marathon was over a voiceover promo for The Tex Avery Show teased, "Maybe they'll show a Screwy Squirrel cartoon!! ...uh, seen any good ones lately?"[1]
Screwy Squirrel Day was the last time Cartoon Network celebrated April Fools with an unannounced special or marathon, possibly due to the complaints of viewers, instead opting for pre-announced stunts, like a Beetlejuice marathon the following year. It is somewhat of a precursor to the April Fools stunts Adult Swim would do in the future as they would become well known for their unannounced stunts.
Gallery
References
↑ "Screwy Squirrel Day (4/01/97)". toonzone.com. April 1, 1997. https://web.archive.org/web/20041207144353/http://fridays.toonzone.net:80/screwysquirrel.html

. Retrieved on May 16, 2018

.

 
Community content is available under
CC-BY-SA
unless otherwise noted.