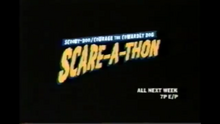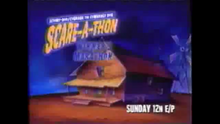 The Scooby-Doo/Courage the Cowardly Dog Scare-a-Thon was a week-long promotion that aired October 23-26, 2000 from 7:00pm to 8:00pm.
The block presented episodes of Scooby-Doo, Where Are You! and Courage the Cowardly Dog, and invited viewers to vote on who was the scariest dog. The winner had his show featured in the 10-hour Scare-a-Thon Winner's Marathon, which aired on October 29, 2000 from 12:00pm to 10:00pm.
Tying in with the promotion was the Scare-a-Thon Sweepstakes, which viewers could enter online at CartoonNetwork.com and through a mail-in entry. The sweepstakes offered the grand prize of a trip to Roswell, New Mexico, and 100 first prize winners recieved a copy of Scooby-Doo and the Alien Invaders and a Cheetos snack pack.
Schedule
Monday, October 23
7:00pm - Scooby-Doo
7:30pm - Courage
Tuesday, October 24
7:00pm - Scooby-Doo
7:30pm - Courage
Wednesday, October 25
7:00pm - Scooby-Doo
7:30pm - Courage
Thursday, October 26
7:00pm - Scooby-Doo
7:30pm - Courage
Sunday, October 29 (Scare-a-Thon Winner's Marathon)
12:00pm - Courage
12:30pm - Courage
1:00pm - Courage
1:30pm - Courage
2:00pm - Courage
2:30pm - Courage
3:00pm - Courage
3:30pm - Courage
4:00pm - Courage
4:30pm - Courage
5:00pm - Courage
5:30pm - Courage
6:00pm - Courage
6:30pm - Courage
7:00pm - Courage
7:30pm - Courage
8:00pm - Courage
8:30pm - Courage
9:00pm - Courage
9:30pm - Courage
Gallery