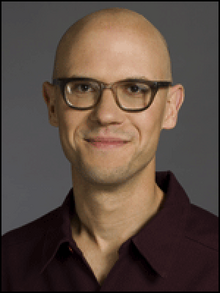 Robert John "Rob" Renzetti (born September 12, 1967) is an American animator and director who created the animated television series My Life as a Teenage Robot for Nickelodeon, and directed Dexter's Laboratory for Cartoon Network. He has also served as story editor for the first two seasons of My Little Pony: Friendship Is Magic, and is currently supervising producer on the Disney Channel animated series Gravity Falls and executive producer on DuckTales.
Renzetti was an art history major at the University of Illinois at Champaign-Urbana. After graduating from Illinois, Renzetti attended the animation program at Columbia College Chicago for one year, where he was a classmate of Genndy Tartakovsky. Renzetti and Tartakovsky were then each accepted into the California Institute of the Arts, where they were roommates.
Career
After graduating from the California Institute of the Arts, Renzetti began his animating career in Spain, working on 5 episodes for Batman: The Animated Series.
Renzetti has been writer, director, and storyboard artist for several Cartoon Network shows, including Dexter's Laboratory, The Powerpuff Girls, Samurai Jack, Foster's Home for Imaginary Friends and 2 Stupid Dogs. During the mid-1990s, he created Mina and the Count, a series of animated shorts that premiered on the What-a-Cartoon show then later aired for a short time on the similar anthology series Oh Yeah! Cartoons. In 1999, he made the short My Neighbor Was a Teenage Robot, which also debuted on Oh Yeah! Cartoons; in 2003, My Life as a Teenage Robot, based on the short, debuted on Nickelodeon. In April 2008, he started work on Cartoon Network's "Cartoonstitute" project as supervising producer.
He was story editor on My Little Pony: Friendship Is Magic for the series' first two seasons, but left in 2012, soon after the departure of the series showrunner, Lauren Faust, to work as the supervising producer on Disney's Gravity Falls.
Television
Year
Title
Role
Notes
1993–1995
2 Stupid Dogs
writer
storyboard artist
director
1995–1996
Dumb and Dumber
storyboard artist
1996–1997
Dexter's Laboratory
director
storyboard artist
animation director

1998
Oh Yeah! Cartoons
producer
Episode: "The F-Tales"
The Powerpuff Girls
writer
storyboard artist
2000–2001
Family Guy
director
Episode 2.18: "E. Peterbus Unum"
Episode 3.6: "Death Lives"
2000
Harvey Birdman, Attorney at Law
director
2001–2002
House of Mouse
storyboard artist
timing director
Samurai Jack
sheet timer
2002
Whatever Happened to Robot Jones?
supervising producer
2003–2008
My Life as a Teenage Robot
creator
2007–2008
Foster's Home for Imaginary Friends
post supervising director
2009
Random! Cartoons
sheet timer
Episode: "6 Monsters"
2010
Adventure Time
sheet timer
Episode 1.3: "The Enchridion/The Jiggler"
2010–2012
My Little Pony: Friendship Is Magic
story editor
2012–2016
Gravity Falls
supervising producer
2017–present
DuckTales
executive producer
Film
| Year | Title | Role |
| --- | --- | --- |
| 1991 | Dudley's Classroom Adventure | animator |
Community content is available under
CC-BY-SA
unless otherwise noted.