Regular Show: The Complete Fourth Season

Company
Warner Home Video
Show
Regular Show
Release date
October 13, 2015
No. of discs
3
No. of episodes
40
Run time
440 mins
Rating
PG
Region Code
1
Format
DVD
Regular Show: The Complete Fourth Season is a DVD release of the american Cartoon Network series, Regular Show. It contains every episode of the fourth season from the show, and it's on a 3 disc set. This DVD is released in North America on October 13, 2015.
Appearance
The DVD cover is turquoise green. In the center it shows a picture of Mordecai, Rigby, Pops, Benson, Skips, Muscle Man, and High Five Ghost.
Episodes
"Exit 9B" (2 part episode)
"Starter Pack"
"Terror Tales of the Park II" (2 part episode)
"Pie Contest"
"150 Piece Kit"
"Bald Spot"
"Guy's Night"
"One Pull Up"
"The Christmas Special"
"T.G.I. Tuesday"
"Firework Run"
"The Longest Weekend"
"Sandwich of Death"
"Ace Balthazar Lives"
"Do or Diaper"
"Quips"
"Caveman"
"That's My Television"
"A Bunch of Full Grown Geese"
"Fool Me Twice"
"Limousine Lunchtime"
"Picking Up Margaret"
"K.I.L.I.T. Radio"
"Carter and Briggs"
"Skips' Stress"
"Cool Cubed"
"Trailer Trashed"
"Meteor Moves"
"Family BBQ"
"The Last LaserDisc Player"
"Country Club"
"Blind Trust"
"World's Best Boss"
"Last Meal"
"Sleep Fighter"
"Party Re-Pete"
"Steak Me Amadeus"
Special Features
None.
Gallery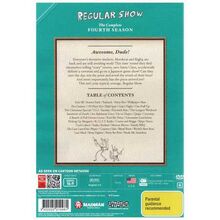 Community content is available under
CC-BY-SA
unless otherwise noted.