Regular Show: The Complete First and Second Seasons
Company
Warner Home Video
Show
Regular Show
Released date
The Complete First and Second Seasons: July 16, 2013 (USA)

The Complete First Season: October 2, 2013 (Australia)

The Complete Second Season: November 6, 2013 (Australia)

No. of Discs
2 (Blu-ray)
3 (DVD)
No. Episodes
40
Run time
440 mins
Rating
TV-PG-V
Region Code
1
Format
Blu-ray
DVD
Regular Show: The Complete First and Second Seasons is a Blu-ray and DVD release of the american Cartoon Network series, Regular Show. It contains every episode of the first and second seasons from the show, and it's on a 2 disc set for Blu-ray and 3 disc set for DVD. It's released in North America on July 16, 2013. Both seasons are released separately in Australia.
Appearance
The DVD cover is blue. In the center is a picture of Mordecai, Rigby, Benson, Skips and Pops together, with a lawn mower beside them.
Episodes
Season 1
The Power
Just Set Up the Chairs
Caffeinated Concert Tickets
Death Punchies
Free Cake
Meat Your Maker
Grilled Cheese Deluxe
The Unicorns Have Got to Go
Prank Callers
Don
Rigby's Body
Mordecai and the Rigbys
Season 2
Ello Gov'nor
It's Time
Appreciation Day
Peeps
Dizzy
My Mom
High Score
Rage Against the TV
Party Pete
Brain Eraser
Benson Be Gone
But I Have a Receipt
This Is My Jam
Muscle Woman
Temp Check
Jinx
See You There
Do Me a Soilid
Grave Sights
Really Real Wrestling
Over the Top
The Night Owl
A Bunch of Baby Ducks
More Smarter
First Day
Go Viral
Skunked
Karaoke Video
Special Features
Commentaries for all 40 episodes
The unaired Regular Show pilot
Animatic for the pilot
Animatic for The Power
Original Pencil Tests from Saerom
CG Test for Hodgepodge Monster
2010 Comic Con Teaser Trailer
The Naive Man from Lolliland student short
Party Tonight Music Video
Interview with J.G. Quintel
JG Pitches "The Power"
Original Regular Show Commercials
2 in the AM PM short
Trivia
This is the first Regular Show DVD to also be released on Blu-ray.
Gallery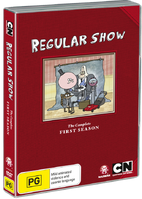 Community content is available under
CC-BY-SA
unless otherwise noted.