Regular Show: Mordecai Pack

Company
Warner Home Video
Show
Regular Show
Release date
January 27, 2015
No. of discs
1
No. of episodes
16
Run time
178 mins
Rating
TV-PG-V
Region Code
1
Format
DVD
Regular Show: Mordecai Pack is a DVD release of the american Cartoon Network series, Regular Show. It contains 16 episodes of the series. It's released in North America on January 27, 2015.
Appearance
The DVD cover artwork shows Mordecai cheering with his hands up in a pink background.
Episodes
"Bet to Be Blonde"
"Country Club"
"Paint Job"
"Guy's Night"
"Caveman"
"Every Meat Burritos"
"Real Date"
"Saving Time"
"New Year's Kiss"
"Laundry Woes"
"Dodge This"
"Portable Toilet"
"Play Date"
"Tants"
"Bad Portrait"
"Maxin' and Relaxin'"
Special Features
Gallery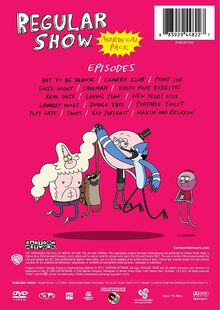 Community content is available under
CC-BY-SA
unless otherwise noted.