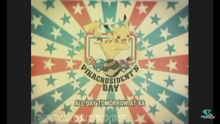 Pikachusident's Day Marathon was a special 16-hour Pokémon: DP Battle Dimension marathon that aired on President's Day, February 16, 2009 from 6am to 10pm. The marathon included all the Pokémon: DP Battle Dimension episodes.
The marathon is themed after presidents, featuring real-life presidents and Pokémons together.
Schedule
6:00am - Hot Springing a Leak!
6:30am - Riding the Winds of Change!
7:00am - Sleight of Sand!
7:30am - Lost Leader Strategy!
8:00am - Crossing the Battle Line!
8:30am - A Triple Fighting Chance!
9:00am - Enter Galactic!!
9:30am - Bells Are Singing!
10:00am - Crossing Paths!
10:30am - Pika and Goliath!
11:00am - Our Cup Runneth Over!
11:30am - A Full Course Tag Battle!
12:00pm - Staging a Heroes Welcome!
12:30pm - Pruning a Passel of Pals!
1:00pm - Strategy With a Smile!
1:30pm - Thief That Keeps on Thieving!
2:00pm - Chim - Charred!
2:30pm - Cream of the Croagunk Crop!
3:00pm - Pokemon Ranger and the Kidnapped Riolu! (Part 1)
3:30pm - Pokemon Ranger and the Kidnapped Riolu! (Part 2)
4:00pm - A Crasher Course in Power!
4:30pm - Hungry for the Good Life!
5:00pm - Fighting Fear With Fear!
5:30pm - Arriving in Style!
6:00pm - The Psyduck Stops Here!
6:30pm - Camping it Up!
7:00pm - Up Close and Personable!
7:30pm - Ghoul Daze!
8:00pm - One Team, Two Team, Red Team, Blue Team!
8:30pm - A Lean Mean Team Rocket Machine!
9:00pm - Playing the Leveling Field!
9:30pm - Doc Brock!
Gallery
Community content is available under
CC-BY-SA
unless otherwise noted.