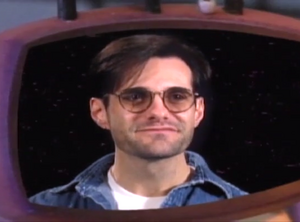 Patrick A. Ventura
(often shortened to
Patrick Ventura
or
Pat Ventura
) is an animation director, writer, animator, storyboard artist and character designer who has worked for
Hanna-Barbera Productions
,
Cartoon Network
, Disney, Warner Bros., Universal and Nickelodeon. Ventura is known for having written and directed several cartoon shorts for the
What a Cartoon!
series on Cartoon Network and the
Oh Yeah! Cartoons
and
Random! Cartoons
series on Nickelodeon.
Career
Ventura graduated from CalArts in the late '70s and proceeded to work all over the animation industry as an artist, storyboarder and writer. He worked as a "gag man" at Disney features during their 1980s revival, writing many of the Roger Rabbit shorts. He left for Hanna-Barbera Productions to work on Tom & Jerry Kids where he got to work alongside and learn from Joseph Barbera. While at Hanna-Barbera, Ventura was instrumental in the development of Cartoon Network's What a Cartoon! showcase series (then known as World Premiere Toons). The series also gave Ventura his first chance to create his own shorts.
Television
Year
Series
Production Credit(s)
1983
Saturday Supercade
Models
The Puppy's Further Adventures
Models
Beauty and the Beast (TV Movie)
Models
Rubik, the Amazing Cube
Models
1983-1984
Mister T
Models
1984
ABC Weekend Specials
Models
Turbo Teen
Models
Cabbage Patch Kids: First Christmas (TV Movie)
Models
Robo Force: The Revenge of Nazgar (TV Movie)
Models
Dragon's Lair
Models
1985
Punky Brewster
Models
Muppet Babies
Model Designer
1986-1987
The Smurfs
Character Designer
1987
'Tis the Season to Be Smurfy (TV Movie)
Character Designer
Yogi's Treasure Hunt
Character Designer
CBS Storybreak
Character Designer
Popeye and Son
Character Designer
1988
Rockin' with Judy Jetson (TV Movie)
Character Designer
Scooby-Doo! and The Reluctant Werewolf (TV Movie)
Character Designer
1988-1989
Slimer! And the Real Ghostbusters
Storyboard Artist
1989
Tummy Trouble
Story by
1990-1993
Tom & Jerry Kids
Writer
1990
Rollercoaster Rabbit
Story by
1992
Aladdin (Animated Series)
Story by
1993
Trail Mix-Up
Story by
1994
Yogi the Easter Bear
Story by
1995
George and Junior: "Look Out Below"
Writer, Director
George and Junior's Christmas Spectacular
Writer, Director, Sound Recording Director
Yuckie Duck: "Short Orders"
Creator, Writer, Director
Yuckie Duck: "I'm On My Way"
Creator, Writer, Director
Sledgehammer O'Possum: "Out and About"
Creator, Writer, Director
Cow and Chicken
Storyboard Artist
The Baby Huey Show
Writer, Director
Space Ghost Coast to Coast
Appeared as himself in the episode
"President's Day Nightmare"
1996
Tales from the Crypt
Animation Director, Director, Storyboard Artist
1997
Sledgehammer O'Possum: "What's Goin' On Back There?!"
Creator, Writer, Director
1998
Jamal the Funny Frog: Mind the Baby
Creator, Writer, Director
The Dangerous Duck Brothers
Creator, Writer, Director
2000
Tom Sawyer
Storyboard Artist
2002
Jamal the Funny Frog: Dentist (TV Short)
Creator, Character Designer, Writer, Director, Storyboard Artist, Producer
Jamal the Funny Frog: Beach (TV Short)
Creator, Character Designer, Writer, Director, Storyboard Artist, Producer
Groove Squad
Director
Dennis the Menace in Cruise Control (TV Movie)
Director
2003
ChalkZone
Character Designer, Storyboard Artist
2005
Tom and Jerry: The Fast and the Furry
Storyboard Artist
Johnny Test
Storyboard Artist
2007
The Dangerous Duck Brothers
Director, Character Designer, Title Card Designer
Phineas and Ferb
Storyboard Artist
2018
The Valiant Pets
Creator, Writer, Director, Storyboard Artist, Executive Producer