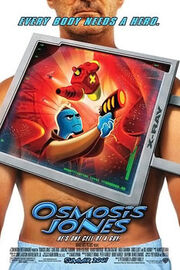 Osmosis Jones
is a 2001 American live-action/animated buddy cop comedy film with animated scenes directed by Tom Sito and Piet Kroon and live-action scenes directed by the Farrelly Brothers. The film centers on Frank Detorre, a slovenly zookeeper; the live-action scenes are set outside Frank's body, while the animated scenes are set inside his body, which is portrayed as a city inhabited by anthropomorphic microorganisms. Street-smart white blood cell cop Osmosis "Ozzy" Jones and stoic cold pill Drix must prevent deadly virus Thrax from killing Frank within forty-eight hours.
The film was met with mixed reviews, and earned $14 million against a budget of $70 million. Despite the lack of accolades, it sold well in home media. It also served as the pilot to the Kids' WB television series Ozzy & Drix (2002–04), where Ozzy and Drix get transferred by a mosquito to the body of a teenage boy named Hector Cruz and continue their battle against germs and viruses from there.
Osmosis Jones made its Cartoon Network premiere on December 19, 2003, as part of their Friday night programming block Fridays. It aired on the network several more times until summer 2006, but has not been seen since except once in 2011.
Cast
Chris Rock as Osmosis Jones
David Hyde Pierce as Drixenol Koldriliff
Laurence Fishburne as Thrax
William Shatner as Mayor Phlegmmi
Brandy Norwood as Leah Estrogen
Ron Howard as Mayor Tom Colonic
Scabies
Bruiser
Richard Steven Horvitz as Red blood cell who talked about free screening
Bill Murray as Frank Detorre
as Shane Detorre
Molly Shannon as Ms. Boyd
Chris Elliott as Bob
Community content is available under
CC-BY-SA
unless otherwise noted.