The Mashup era (commonly abbreviated as CN Mashup) is Cartoon Network's fourteenth and one of the current branding in the US along with Dimensional.
Mashup 1.0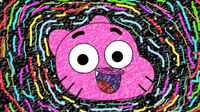 The first set of Mashup's bumpers premiered on September 8, 2018. Mashup's bumpers are differently colored in each frame. The bumpers were included in next bumpers and others were aired like regular bumpers. The bumpers featured characters transitioning and morphing into other characters. Most of the bumpers ended with a star saying "You made this." and then it flipped to say "Mash-Up." There was also increased letter spacing.
Since 2020, Cartoon Network LA used this set of bumpers as "#CNFanartMashup".
Mashup 2.0
Mashup 2.0 (also known as the Dimensional 4.0 era or either the Anti-Gravity era) began on May 28, 2019, with the new "episode-specific" next bumpers that were introduced that changed depending which episode was airing came next. When there is no specific bumper, a generic next/now bumper airs instead. The episode-specific bumpers were retired on November 1st, 2019, along with all the Mashup next/now bumpers. Generic bumpers from Dimensional 1.0 air when Steven Universe is about to come on. It also replaces the ITC Lubalin Graph Bold font (last seen in
New Saturdays
and the
Cartoon Network app
) in use since the CHECK it era, though it is still used in a few instances.
The theme was a bunch of Cartoon Network characters floating around with zero gravity.
Besides a new sign-off, replacing Dimensional 1.0's, it was introduced on August 31, 2019; a 15-second version debuted on September 6th, 2019. An extended 30-second version premiered on September 11, 2019. A new sign-on made its first appearance on September 7, 2019.
The channel's on-screen bugs changed on February 15, 2020, during the marathon preceding the Teen Titans Go! vs. Teen Titans television premiere.
The generic announcer from the Dimensional era was replaced by Reed LoRenzo Shannon.
Shows
The Amazing World of Gumball (ended June 24, 2019)
The Tom and Jerry Show (moved back to Cartoon Network from September 3 to October 3, 2019)
Steven Universe (ended January 21, 2019)
We Bare Bears (ended May 27, 2019)
New Looney Tunes (moved back to Cartoon Network from September 3 to October 3, 2019)
The Powerpuff Girls (ended June 16, 2019)
Unikitty! (ended August 27, 2020)
Mighty Magiswords (ended May 17, 2019)
OK K.O.! Let's Be Heroes (ended September 6, 2019)
Summer Camp Island (moved to HBO Max on June 18, 2020)
Mega Man: Fully Charged (ended May 23, 2019)
Transformers: Cyberverse (ended June 7, 2020)
Bakugan Battle Planet (premiered December 23, 2018)
DC Super Hero Girls (premiered March 8, 2019)
Victor and Valentino (premiered March 30, 2019)
Mao Mao: Heroes of Pure Heart (premiered July 1, 2019)
Scooby-Doo and Guess Who? (premiered July 8, 2019 until August 12, 2019)
Infinity Train (premiered August 5, 2019 and moved to HBO Max on August 13, 2020)
Power Players (premiered September 21, 2019)
Steven Universe Future (premiered December 7, 2019 and ended March 27, 2020)
ThunderCats Roar (premiered February 22, 2020)
We Baby Bears (premiering 2021)
Elliott from Earth (premiering 2021)
The Heroic Quest of the Valiant Prince Ivandoe (premiering TBA)
Lucas the Spider (premiering TBA)
Trivia
Gallery
Community content is available under
CC-BY-SA
unless otherwise noted.