Lego Nexo Knights Is an american animated 3D cartoon series bases on the Lego's Nexo Knights toy line. This is the third Lego based Cartoon to air on the Network.
Plot
The high tech Kingdom of Knighton is in trouble. The King's Jester has gone rogue and stolen the strange talking Book of Monsters. Using its evil magic, he summons an army of dangerous Lava Monsters and attacks. It is up to the brave but inexperienced NEXO Knights to come to the rescue. In their amazing rolling castle and with the help of holographic Wizard Merlok 2.0, they have technology and NEXO powers, an incredible new digitized magic, on their side. But the Jester and the Book of Monsters have a sinister plot that may spell doom over the once peaceful kingdom.
References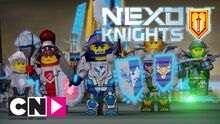 Community content is available under
CC-BY-SA
unless otherwise noted.