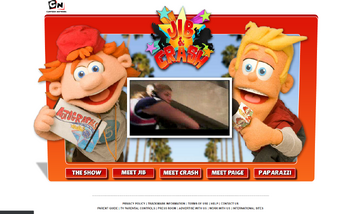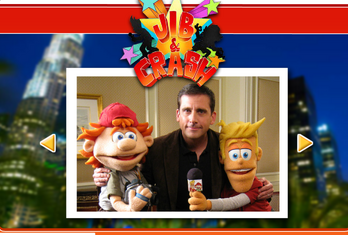 Jib and Crash : The Hollywood Sneaks were a set of bumpers advertised in 2008 on Cartoon Network. A series of promos starring two puppets named Jib & Crash, as well as a girl who worked in Costume Design named Pagie who would help them disguises. These shorts would have the trio go behind the scenes and previews of upcoming movies with guest stars.
.Broadcast
Jib and Crash aired on Cartoon Network in 2008 as promos on the channel and on the website. Due to how rare Jib and Crash have become, it's hard to see how exactly they would have played out.
References
https://www.cartoonnetwork.com/promos/200806_jibandcrash/index.html
https://www.awn.com/news/cartoon-network-hits-hollywood-jib-and-crash
https://www.animationmagazine.net/tv/cartoon-network-introduces-jib-crash/
Community content is available under
CC-BY-SA
unless otherwise noted.