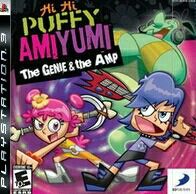 Hi Hi Puffy AmiYumi: the Genie and the Amp

File:Genie and the Amp.jpg

Developer(s)
Sensory Sweep Studios Criware
Publisher(s)
D3 Publisher Sega
Platform(s)
Wii, Nintendo DS, Gameboy Advance, Macintosh, PlayStation 2,

PlayStation Portable, PlayStation 3, Xbox, Xbox 360, Microsoft Windows,

Nintendo Gamecube

Release
June 27, 2006

November 17, 2006 (PS3)

November 19, 2006 (Wii)

Genre(s)
Platform
Mode(s)
Single-player
Hi Hi Puffy AmiYumi: The Genie & the Amp is a 2006 action game based on the Cartoon Network animated television series Hi Hi Puffy AmiYumi. The PlayStation 3 and Wii ports were launch as the Launch title of the PlayStation 3 and Wii.
Gameplay
The player must navigate various levels. Throughout the levels, the player will come across a variety of enemies trying to stop them. To attack, the player can either use the buttons or use the guitar strings that appear.[1] The game also features a two-player cooperative mode.
Story
Rock stars Ami and Yumi are having trouble getting the creative juices flowing to lay down some tracks for their new album. One day, they find a magic genie who sends them to various time periods to collect magic notes, which are required for the girls to play the "Ultimate World Tour."
References
Community content is available under
CC-BY-SA
unless otherwise noted.