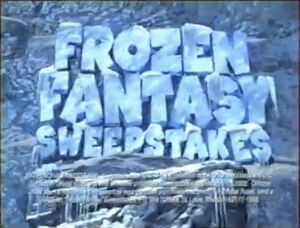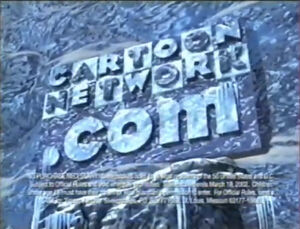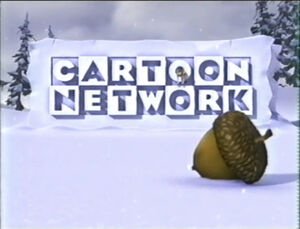 The Frozen Fantasy Sweepstakes was a contest on CartoonNetwork.com from March 11-18, 2002 that was made to promote the first Ice Age film.
The grand prize winner would get an Alaskan cruise for four, where they'll see glaciers, and one hundred runners-up would get the Ice Age game for Game Boy Advance.
The commercial for the sweepstakes was done by Simon Coffin, who did other Cartoon Network commercials up until 2008. The commercial featured Fred Flintstone and Barney Rubble (from The Flintstones). Fred found summer to be an overrated season and can't wait for winter. Barney tells him to be careful what he wished for, as soon snow falls all over Bedrock.
Trivia
The commercial ends with a bumper (actually done by Blue Sky Studios, who created the Ice Age franchise) where Scrat pops out of the O in Cartoon Network's logo but is stuck in there, yet, tries to get his acorn, but screams and gives up.

This was also used for a bumper the Fox Network had at the time, but was replaced with the Fox logo.
Gallery