Foster's Home for Imaginary Friends:

The Complete Season 2

Company
Warner Home Video
Show
Foster's Home for

Imaginary Friends

Release date
September 11, 2007
No. of discs
2
No. of episodes
13
Run time
297 mins
Rating
Not Rated
Region code
1
Format
DVD
Foster's Home for Imaginary Friends: The Complete Season 2 is a DVD release of the american Cartoon Network animated series, Foster's Home for Imaginary Friends. It contains all 13 episodes from the second season of the series, plus special features. This DVD was released on September 11, 2007.
Episodes
"Partying is Such Sweet Soiree"
"The Big Lablooski"
"Where There's a Wilt, There's a Way / Everyone Knows It's Bendy"
"Sight for Sore Eyes / Bloo's Brothers"
"Cookie Dough"
"Frankie My Dear"
"Mac Daddy"
"Squeakerboxxx"
"Beat with a Schtick"
"The Sweet Stench of Success"
"Bye Bye Nerdy"
"Bloo Done It"
"My So Called Wife"
Appearance
The front DVD cover has Cheese looking happy, riding on a cart.
Special Features
A new gallery of lesser-known friends.
A music video - "Cheesequest"
Five more promos for the show.
End of episode gags.
Commentary by Cheese on "Mac Daddy."
Random interruptions by Cheese before and during episodes and at some of the menus.
Trailers for Ben 10 Season 2, Loonatics Unleashed Season 2, The Grim Adventures of Billy and Mandy Season 1, Re-Animated, and Pop-Tarts Toaster Pastries Presents S'mores on Mars
Gallery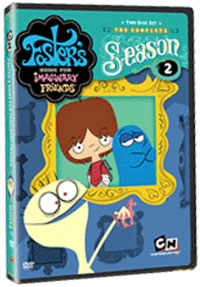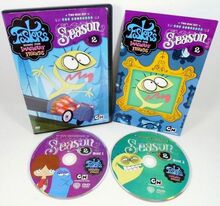 Community content is available under
CC-BY-SA
unless otherwise noted.