Foster's Home for Imaginary Friends:

The Complete Season 1

Company
Warner Home Video
Show
Foster's Home For Imaginary Friends
Release date
March 6, 2007
No. of discs
2
No. of episodes
13 (including pilot movie)
Run time
294 mins
Rating
Not Rated
Region code
1
Format
DVD
Foster's Home for Imaginary Friends: The Complete Season One is a DVD release of the american Cartoon Network animated series, Foster's Home for Imaginary Friends. It contains all 13 episodes (Including the pilot movie) from the first season of the series, plus special features. This DVD was released on March 6, 2007.
Episodes
1 - 3. "House of Bloo's" (pilot movie)
4. "Store Wars"
5. "The Trouble With Scribbles"
6. "Busted"
7. "Dinner is Swerved"
8. "World Wide Wabbit"
9. "Berry Scary"
10. "Seeing Red / Phone Home"
11. "Who Let the Dogs In?"
12. "Adoptcalypse Now"
13. "Bloooo"
Special Features
"Store Wars" Commentary by Blooergard, Mac, and Frankie
"What Happens When Your Imagination Runs Wild?" A Behind the Scenes Look
Exclusive FOSTER'S HOME FOR IMAGINARY FRIENDS Promos
Gallery of Friends
End of Episode Gags
Game Code for BIG FAT AWESOME HOUSE PARTY on Cartoon Network.com
Trivia
This DVD includes an insert that contains an episode guide, and lists all the special features.
Gallery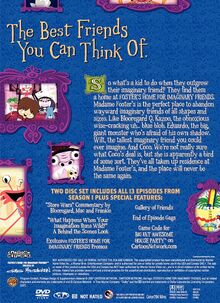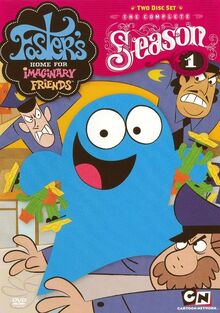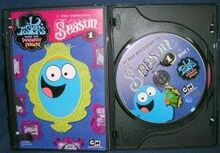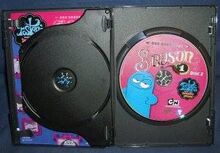 Community content is available under
CC-BY-SA
unless otherwise noted.