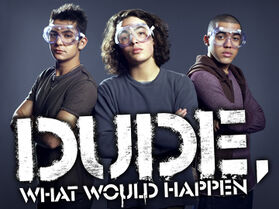 Dude, What Would Happen (stylized as DUDE, What Would Happen) was a live-action/reality television series produced by Dalaklis Media and a part of the short-lived CN Real block. Created by Charles Dalaklis, the show aired on August 19th, 2009 (debuting alongside Bobb'e Says) and ended on September 21st, 2011. The show was hosted by three teens who would conduct experiments under the basis of "what would happen". The show was structured in a style similar to MythBusters, in which each segment was dedicated to the thinking, building, and executive process of three brainstormed ideas.
Despite universal panning from viewers and critics alike, the show proved to be a ratings success for Cartoon Network, who ordered four season in total. Dude, What Would Happen was one of the only two CN Real shows to be renewed for additional seasons (the other being Destroy Build Destroy) and to run beyond the CN Real block.
Cast
C.J. Manigo
Jackson Rogow
Ali Sepasyar
Episodes
Dude, What Would Happen/Episodes
External Links
Cartoon Network Original Series
Community content is available under
CC-BY-SA
unless otherwise noted.