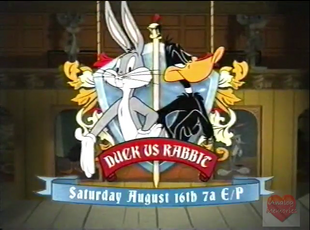 Duck vs. Rabbit was a twelve-hour Looney Tunes marathon that aired on August 16, 2003 from 7:00am to 7:00pm.[1]
The marathon focused on Bugs and Daffy's greatest grudge matches from several classic Warner Bros. cartoons.
Schedule
7:00am

Hyde and Hare
Ducking the Devil
This Is a Life?
The Impatient Patient
Devil May Hare
Gorilla My Dreams

8:00am

Birth of a Notion
Hair-Raising Hare
Duck Dodgers in the 24½th Century
Hare-Way to the Stars
Duck! Rabbit, Duck!
Design for Leaving

9:00am

Mad as a Mars Hare
Duck Soup to Nuts
Along Came Daffy
Ali Baba Bunny
Bugs Bunny Rides Again
The Hare-Brained Hypnotist

10:00am

A Pest in the House
Bugs' Bonnets
Boobs in the Woods
Beanstalk Bunny
Super-Rabbit
Stupor Duck

11:00am

Falling Hare
Buckaroo Bugs
Drip-Along Daffy
Daffy Duck in Hollywood
The Abominable Snow Rabbit
Long-Haired Hare

12:00pm

Invasion of the Bunny Snatchers
To Duck or Not to Duck
The Stupid Cupid
Rabbit Punch
What's Opera, Doc?
The Million Hare

1:00pm

Daffy's Southern Exposure
Porky's Hare Hunt
Porky's Duck Hunt
People Are Bunny
Frigid Hare
Rabbit Fire

2:00pm

Porky Pig's Feat
My Favorite Duck
Wabbit Twouble
The Wise Quacking Duck
The Iceman Ducketh
Elmer's Pet Rabbit

3:00pm

The Great Piggy Bank Robbery
Nasty Quacks
Bugs and Thugs
Golden Yeggs
Water, Water Every Hare
The Wabbit Who Came to Supper
Box Office Bunny

4:00pm

Rocket Squad
Daffy Doodles
Rabbit Seasoning
Foxy by Proxy
Rebel Rabbit
Haredevil Hare

5:00pm

Little Red Riding Rabbit
Duck Dodgers and the Return of the 24½th Century
The Hasty Hare
Show Biz Bugs
What Makes Daffy Duck
Yankee Doodle Daffy
Rabbit of Seville

6:00pm

Spaced Out Bunny
Robin Hood Daffy
Rabbit Hood
Duck Amuck
Blooper Bunny
Rabbit Rampage
References
↑ "CN Schedule Aug 16 2003". cartoonnetwork.com. August 16, 2003. http://web.archive.org/web/20030815091255/http://schedule.cartoonnetwork.com:80/servlet/ScheduleServlet?action=GO&theDate=8/16/03&timeZone=EST

. Retrieved on July 27, 2017

.

 
Community content is available under
CC-BY-SA
unless otherwise noted.