The Day of Firsts was a special 7-hour New Year's Day marathon that aired on Cartoon Network on January 1, 2005 from 12:00 PM to 7:00 PM. The marathon was meant to celebrate New Year's Day and featured very first episodes of the network's programming. Also, the marathon was hosted by Mr. Baby and Baby from Cartoon Network's Fridays.
This marathon aired again on January 1, 2007 at 7:00 AM to 10:30 PM.
Schedule
2005
2007
TBA
Gallery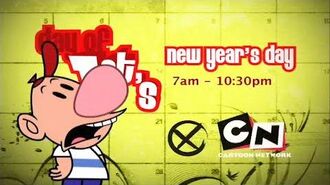 Community content is available under
CC-BY-SA
unless otherwise noted.