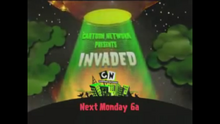 The Cartoon Network Invaded Memorial Day Marathon (also known as the Cartoon Network Original Movie Marathon and the Monster Memorial Day Marathon) was a fifteen-and-a-half-hour Memorial Day marathon that aired on May 28, 2007, from 6:00 A.M. through 9:30 P.M.
The marathon featured some Invaded specials like Foster's Home for Imaginary Friends, Ed, Edd n Eddy, My Gym Partner's a Monkey, Camp Lazlo and The Grim Adventures of Billy & Mandy, as well as movie presentations.[1]
Schedule
Gallery
References
↑ "CN Talkback: Memorial Day Monday 2007 - CN Movies and Invaded Specials!". toonzone.com. May 26, 2007. https://animesuperhero.com/forums/threads/cn-talkback-memorial-day-monday-2007-cn-movies-and-invaded-specials.4353881/

. Retrieved on August 8, 2019

.

 
Community content is available under
CC-BY-SA
unless otherwise noted.