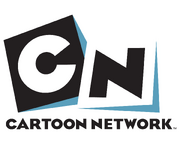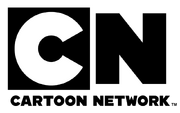 Cartoon Network is a cable and satellite television channel created by Turner Broadcasting, a unit of Time Warner which primarily shows animated programming. The Philippine version is a branch of Cartoon Network Asia, broadcasting exclusively in the Philippines. It launched as an independent feed on June 3, 1995.
History
1995 - 1999: Checkerboard Era
Cartoon Network Philippines was formerly part of Cartoon Network Asia. It had started its broadcast in 1995 as the dual-channel TNT & Cartoon Network, operating from 6:00 a.m. to 9:00 p.m., with Turner Classic Movies (formerly TNT) taking the remainder of the daily schedule. On 1 July 2001, Cartoon Network Asia became a separate 24-hour channel, with exclusive local feeds for the Mandarin-speaking areas like Taiwan, the Philippines, India, Japan, South Korea and Australia. It originally aired only Hanna-Barbera cartoons such as Yogi Bear, Top Cat, The Flintstones, etc. The channel quickly started to develop, airing for the first time MGM cartoons (Tom & Jerry, Droopy, and Spike and Tyke) in 1996, and (after Time Warner's purchase of Turner in 1996) Warner Bros shows (Looney Tunes, and several other Looney Tunes-related cartoons) in 1997. In 1998, Cartoon Network started to air its first original shows (Space Ghost Coast to Coast and The Moxy Show), however, The Moxy Show was soon cancelled.
1999 - 2005: Powerhouse Era
1999 was the year Cartoon Network received its first facelift, introducing new bumpers, new shows and a new 'powerhouse' theme. The new shows for 1999 were Dexter's Laboratory, Cow & Chicken, I Am Weasel, Ed, Edd n Eddy, and Johnny Bravo. The following year, 2000, saw more Cartoon Network originals being introduced, including The Powerpuff Girls (original), Mike, Lu & Og, and Courage the Cowardly Dog. Some of these shows (Mike, Lu & Og, Ed, Edd n Eddy and Courage the Cowardly Dog) were not produced by Cartoon Network. In 2001, the rate of new Cartoon Network originals kept going, with Sheep in the Big City, Time Squad, and Samurai Jack being brought in. Due to the large number of Cartoon Network originals that were on Cartoon Network, they decided to name these shows Cartoon Cartoons, which led to the Friday night block Cartoon Cartoon Fridays being introduced to the Philippines later in 2001. Also in 2001, Cartoon Network introduced other programming blocks including Toonami, Acme Hour, Prime Time, Boomerang (now a channel) and Cartoon Network After Dark. 2002 saw more Cartoon Cartoons introduced including Grim & Evil, Robot Jones, and Codename: Kids Next Door. Grim & Evil eventually spun off into two separate series, The Grim Adventures of Billy & Mandy and Evil Con Carne. Justice League and Mucha Lucha! also debuted on Cartoon Network in 2002. In 2003, there were no new Cartoon Network original shows added to the schedule, however there were several new programming blocks and non-Cartoon-Cartoons added. The programming blocks include Boomeraction (currently a block on the channel Boomerang), and Tiny TV (currently also a block on Boomerang). Shows added to the line-up in 2003 include The Mask, and X Men: Evoloution. 2004 saw the introduction of Cartoon Cartoon Foster's Home For Imaginary Friends. Apart from Foster's, there were no Cartoon Cartoons introduced in 2004. Programming blocks introduced in 2004 include Fridays and Eyeballs A Go-Go. Also, 2005 was the year that the Boomerang programming block was made into a TV channel.
2005 - 2008: City Era
In 2005, the bumpers were replaced with 3-D animations of a 'city' that all the Cartoon Network toons lived in. Show-specific bumpers were replaced with 3-D animations of a well-known scene from the particular show (e.g. a Dexter's Laboratory bumper would feature Dexter's house, a Powerpuff Girls bumper would feature most likely the PPG household, and so forth). The retro, checker board logo was replaced with the 'CN' city-style logo of today. In 2006, several new Cartoon Network originals premiered, including Robotboy, The Life and Times of Juniper Lee, Camp Lazlo, Hi Hi Puffy AmiYumi, My Gym Partner's a Monkey and Squirrel Boy. The Cartoon Cartoons moniker previously used for Cartoon Network originals was also dropped in 2006. The Philippine version of Cartoon Network also aired The Simpsons around that time.
2008 - 2011: New Wave Era
On August 31 2008, the format of Cartoon Network's bumpers and commercials changed, and the Cartoon Network Theatre and Fridays Flicks were renamed to Cartoon Network Popcorn. This mimics a similar decision made by Cartoon Network Southeast Asia, with the major visual theme being the recurring 'dynamic line' on the network's official website and also in all the Station IDs, bumpers, etc. During the New Wave Era much of Cartoon Network's comedy/fun-oriented programs (such as Foster's Home for Imaginary Friends and Camp Lazlo), which were popular in the early-mid 2000s, are being shown much less frequently on the network, making way for more anime and action-oriented shows (such as Ben 10, Ben 10 Alien Force, Secret Saturdays).
2011 - 2014: Check It/"It's a Fun Thing!" Era
On October 1, 2011, Cartoon Network made a rebrand to Check It look at 9:00 AM (PHT) during The Amazing World of Gumball premiere. During that time of the rebrand, they made a slogan for Cartoon Network, "It's a Fun Thing!", as well with the new Cartoon Network logo. The network's official website is redesigned, similar from the official US website.
On November 2014, the slogan "It's a Fun Thing!" was abolished and replaced with "Are You CN What Where Sayin'?" as their network slogan (same as the US).
2015 - 2017: Check It 3.0 & 4.0
On the 1st of January, 2015. Cartoon Network added the Check It 3.0 same as the US (2013-2014). It featured high-colored bumpers and its summer video. One year after, on 1st of January 2016, they added Check It 4.0. It featured time-bumpers or bumpers and only a few bumpers.
2017 - present: "Are You CN What Where Sayin?/New New New New" era, Dimensional, and current events
The slogan "It's A Fun Thing!" was abolished and replaced by "Are You CN What Where Sayin'" in November 2014. On January 1, 2015, Cartoon Network adapted CHECK It 3.0, then CHECK it 4.0 on December 31, 2015 to January 1, 2016. However, bumpers from CHECK It 1.0 (usually on other shows that are on commercial breaks, such as reruns of Cartoon Network original and acquired programming) and 3.0 (only the "NEXT" bumpers) are still being aired. In late 2016, all the CHECK it 1.0 bumpers are replaced with CHECK It 4.0.
On March 18, 2017, the channel rebranded itself to Dimensional starting with an airing of the miniseries, Adventure Time Islands. As a result, some promos and bumpers (including the PG advisory) are now utilising the current branding as used in the United States, while other bumpers retained the old branding.
Programs
Current programming
Acquired programming
Reruns of classic/original programming
Interstitials
Cha-Ching (airs during commercial breaks)
Bill and Tony
Beat Monsters
Former programming
Original programming
Acquired programming
Content
Almost all of its programs are either from Warner Bros., MGM and Hanna-Barbera. The Philippine feed is one of only two feeds that has Toonami as an anime/Super Sentai block, the other being the Indian feed competing with Animax's South Asia feed.
Time blocks
Existing blocks
Cartoon Network Popcorn
Premiering movies that range from Cartoon Network specials to non-related movies, every Saturday at 4 p.m. with no commercials, 9 p.m. and every Sunday at 2 p.m.
These blocks air most of new episodes from The Amazing World of Gumball, Clarence, Regular Show, Uncle Grandpa, Steven Universe and We Bare Bears.
Laughternoons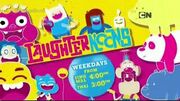 The programming block that starts at 4/p, same as the other feeds. It airs on weekdays and replaced from Funday Monday, due to low viewers during schooldays,. The block premiered in 2013 and ended circa 2016 or 2017.
New Weekends
A new programming block that starts at 9:15/a in the morning until its sign-off hour. This block is not available on the HD Simulcast for unknown reasons. It only airs on weekends, as well as similar sho compared to that of Laughternoons. It also airs similar shows.
Star Lounge
A special movie block dedicated to young girls. Launched on April 21, 2007, Barbie Fairytopia: Magic of the Rainbow became the first one to be shown. By the month after, this block shows all current Barbie and My Scene movies (except Pollypocket: Pollyworld) every first and third Sunday of the month. It had a brief hiatus after December 16, 2007, but made its return on May 17, 2008 with Barbie Mariposa.
Cartoon Network Popcorn Friday
Formerly known as Friday Premiere Flick, every last Friday of the month, this slot features top-grossing blockbuster hits, mostly live-action. This special block premiered on January 25, 2008 at 8:00 pm.
These are the following films that have aired in this block:
2008

The Lost World: Jurassic Park

Channel Chasers

Chicken Little

Monsters, Inc.

E.T: The Extra Terrestrial

Fairly OddBaby

Batman Begins

The Polar Express

Curious George

The Great Discovery

Truth or Square

2009

1st Quarter

A Goofy Movie

Atlantis SquarePantis

Madagascar

Madagascar: Escape 2 Africa

Men in Black II

Hellboy

The Aristocats

Ghostbusters

2nd Quarter

April

Thomas and the Magic Railroad

The SpongeBob SquarePants Movie

Garfield: The Movie

Babe

Bambi

Bambi 2

May

The Jungle Book

The Jungle Book 2

Hook

Monster House

Ghostbusters II

Pete's Dragon

Piglet's Big Movie

Pooh's Heffalump Movie

June

Hellboy: Blood and Iron

The Fox and the Hound

The Fox and the Hound 2

3rd Quarter

July

Robin Hood

Spider-Man

The Rugrats Movie

All Grown Up

Hercules

Tarzan

August

Hellboy: Sword of Storms

Hero of the Rails

Happy Feet

Mulan

September

Naruto the Movie: Ninja Clash in the Land of Snow

4th Quarter

October

Metropolis

Godzilla

Final Fantasy: The Spirits Within

Wishlogy

5th Quarter

November

Dumbo

Aladdin

Home on the Range

Brother Bear

Brother Bear 2

December

2010

6th Quarter
January

Jimmy Neutron: Boy Genius

Barnyard

Mighty Morphin Power Rangers: The Movie

The Lion King
Toonami
A time block which is dedicated in showing anime, tokusatsu and Sentai, targeting at least 11 and up. All programs that are shown in this block are dubbed in English.
New Mondays
New Mondays will feature back-to-back episodes of Batman: The Brave and the Bold.
Former blocks
The following have been a part of Cartoon Network, but were later pulled out.
Boomerang
Main article: Boomerang

It is a block showing vintage Hanna-Barbera shorts and related material. It is now a separate TV channel available in the Asia-Pacific region (Boomerang Australia and Boomerang SeAsia Feed), and available exclusively over SkyCable Platinum.
Tiny TV
Tiny TV began airing in June 2002 and was shown from 9am - 12pm on weekdays. The block previously aired babyfication versions of classic Hanna-Barbera shows such as The Flintstone Kids, Tom & Jerry Kids and A Pup Named Scooby Doo. Later, other toddler-themed cartoons such as Postman Pat, Thomas the Tank Engine and Friends, The Adventures of Bottle-top Bill and Pingu were shown.
[adult swim]
A time block suited for mature audiences, targeting adults at least 17 years old. Prior to its removal for unknown reasons, the Philippine feed was the only one in the Asia-Pacific region to have this block.
Todo na Toons!
This was a time block that featured five original Cartoon Network shows with less commercial breaks. This block ran from January 7 to March 28, 2008, showing the following shows: Class of 3000, The Powerpuff Girls, Squirrel Boy, Codename: Kids Next Door and Ben 10. The name is a play on the Filipino expression "Todo na 'to!" ("This is extreme!")
Other former blocks
120% Cartoon Network
The Detective Squad
Toon-Si-Log
Good Morning, Scooby!
Fridays
Recipe for Fun
The Cartoon Cartoon Show
Toon-O-Scope
Halo-Halo Espesial
School of Cool
Hero Up
Vipink
Finnvasion
Jake over marathon
Ben 10 Time Machine
Ben 10 Ultimate Marthon
10.10.10.
Paws and Claws
Caturdays
 Ice king time
The Best of the Best
Weekend Morning Action
Movie Block Related Names:

Cartoon Theatre
Megatoon Movie
Cartoon Network Theatre
Friday Premiere Flick
Cartoon Network Popcorn Freaky Friday
Cartoon Network Popcorn Monster Monday
Cartoon Network Popcorn Toon-halian
Cartoon Network Hot-Buttered Popcorn
Cartoon Network Video
In late 2007 Cartoon Network launched Cartoon Network Video, a video on demand service designed for Philippine broadband viewers with flash video. It does not allow full screen viewing.
Official sites
References