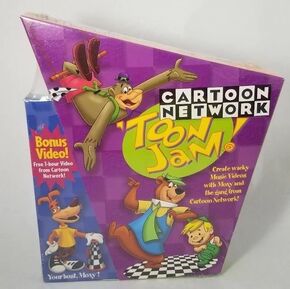 Cartoon Network 'Toon Jam! is a computer game created by Turner Interactive and Cartoon Network in 1995. It was the first video game released by Cartoon Network. The game was rumored to be similar to Microsoft's Nickelodeon 3D Movie Maker, except you create animated music videos with cartoon characters from Turner's library, as well as Cartoon Network's very own Moxy the Dog.
Overview
The CD-Rom, hosted by Cartoon Network host Moxy (with voice provided by comedian Bobcat Goldthwaite), allows children to create their own music videos using a cast of 18 well-known characters, such as The Jetsons and Yogi Bear. Many of the 25 musical themes are original Hanna-Barbera cartoon themes, with original 16-bit music as well. One unique aspect of the title, according to a company executive, is the ability to save a music video creation onto a floppy disc. A unique marketing element tied into that feature is a contest that will have the best 'Toon Jam!-created videos aired on the Cartoon Network.
This game also comes with a free bonus 1-hour videocassette from Cartoon Network. The cassette is Jammin' Video, and Moxy is your host. That VHS contains dancing toons.
Community content is available under
CC-BY-SA
unless otherwise noted.