Cartoon Cartoons: The Top 5

Launched

March 3, 2002[1]

Defunct

July 13, 2008[2]

CN era(s)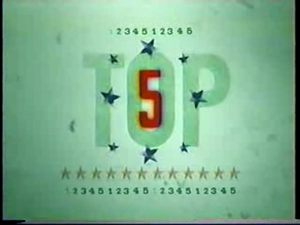 Cartoon Cartoons: The Top 5, or simply the Top 5 (also known as the Cartoon Cartoon Top 5, Top Five Cartoons or the Cartoon Top 5 and known in the planning stages as Cartoon Cartoon's Greatest Hits), was an hour-long Cartoon Network programming block that originally featured a countdown of the week's five "best" Cartoon Cartoons. In 2004 the programming was expanded to also include non-Cartoon Cartoons such as Foster's Home for Imaginary Friends, Hi Hi Puffy AmiYumi and Camp Lazlo. The block ran from March 3, 2002 until July 13, 2008.
In 2008, the Top 5 aired only on weekends in a very early timeslot (7:00 A.M. to 8:00 A.M.) and received no promotion, other than from CartoonNetwork.com's "mini-site." Finally, on July 13, 2008, the block was removed from CN's schedule and website, a day before the Nood era began. It was replaced with Transformers: Animated.
However, although cancelled one day before the Nood era debuted, the Nood montage shows an unused bumper for the Top 5.[3]
Shows that aired as part of the block
Foster's Home for Imaginary Friends
Hi Hi Puffy AmiYumi
Camp Lazlo
References