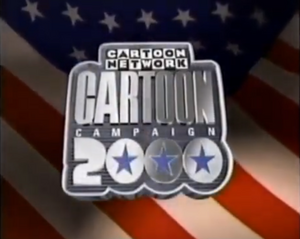 Cartoon Campaign 2000
was the first installment of Cartoon Network's presidential election, preceding
Cartoon Network's 2004 Election
. "Political" ads for the 50 candidates began airing on January 15, 2000 and viewers could vote for their favorite candidate online.
[1]
Candidates included cartoon characters such as Fred Flintstone, Dexter, Bugs Bunny, Brak, and Scooby-Doo.
On Sunday March 19, 2000 the winner of the election was announced to be Scooby-Doo who received 17.4% of the more than three quarters of a million votes received, followed by The Powerpuff Girls with 11.1% and Bugs Bunny with 8.6%.[1] A mini-marathon of Scooby-Doo cartoons celebrated the election winner on Sunday, March 19, 2000.[1]
Leading up to announcement of the results, there was a sweepstakes held on cartoonnetwork.com. Entry for the sweepstakes was open from March 5-9, 2000, and winners received a home theater system, including a large screen TV, DVD player, VCR, stereo and digital surround sound.[2]
Despite Scooby-Doo emerging as the victor, when the gimmick was done again in 2004, its commercials stated Ed from Ed, Edd n Eddy as the current "president".
Gallery
References
↑ 1.0 1.1 1.2 DeMott, Rick (March 28, 2000). "Cartoon Campaign 2000 Winner". Animation World News. http://www.awn.com/news/cartoon-campaign-2000-winner

. Retrieved on July 14, 2014

.

 

↑ "Welcome to CARTOON CAMPAIGN 2000 headquarters!". cartoonnetwork.com. March 2, 2000. https://web.archive.org/web/20000302121018/http://www.cartoonnetwork.com:80/feature/campaign2000/index.html

. Retrieved on October 3, 2017

.

 
Community content is available under
CC-BY-SA
unless otherwise noted.