CHECK it

Launched

May 29, 2010

Defunct

July 2016

Studio

Brand New School (1.0)
Awesome Incorporated (2.0)
Impactist (3.0)
Bill Richards (4.0)

Announcers

Brian McElhaney
Nick Kocher

Composer(s)

Michael Kohler (1.0 and 2.0)
Impactist (3.0 and 4.0)

Preceded by

Succeeded by

Concurrent

YEEEAUHHHH!
Dimensional (May 30–July 2016)

CN president(s)

Stuart Snyder (May 29, 2010–March 31, 2014)
Christina Miller (July 16, 2014–July 2016)
CHECK it (also known as It's A Fun Thing in Asia and Australia) was a new identity for the channel that was introduced on May 29, 2010 in USA and October 1, 2011 in Asia and Australia. The network's ninth branding, designed by Brand New School, makes heavy use of the black and white checkerboard motif which made up the network's first logo, as well as various CMYK color variations and various patterns. In May 2013, the channel's bumpers and UP NEXT screens were revamped for their new branding, CHECK it 3.0. The UP NEXT bumpers, for example, consisted of a spinning cube with an animated picture of a character from the show up next in a CMYK color palette, used alongside specially commissioned music from Impactist. On June 1, 2015, the bumpers were revamped again, and relied on heavy gradients and new emojis to become known as CHECK it 4.0.[1] The slogan "CHECK it" is a common quote in Regular Show.
From this era, it is a transition period from using 3D graphics to a flatter design with more vivid colors. CHECK it 1.0 is the last era to use such 3D graphics.
It is concurrent with the Dimensional era on some other international feeds. The United States feed on June 14, 2016 made Dimensional the successor of CHECK it era.
As of now, CHECK it 4.0 is the last supported rebrand of all of the international feeds.
Graphics
CHECK it 1.0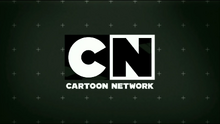 CHECK it 1.0 was the first version of the CHECK it era to be introduced. It debuted on May 29, 2010 in the US, replacing the Noods and Prefuse eras. It featured CMYK styles resembling the Checkerboard era. The next bumpers were revamped to be 3 random clips of shows inside 3 checkers, but sometimes a dynamic next bumper was used where the character(s) interact within the checkerboard. Initially, the Next bumpers had no statements regarding what the program was, and whether it was new or not. The bumpers only had one of the two announcers just stating "next" and/or "later," and that was it. Eventually, actual dialogue stating the program, and whether it was new or not was added to the Next bumpers.
The actual bumpers themselves consisted of the Cartoon Network logo in random situations on differently colored CMYK grid backgrounds.
The mascots for this era were the sentient letters named C (played by Nick Kocher) and N (played by Brian McElhaney), which based on the network's current logo. The heads could be shown during the era's launch, but they dropped shortly after, in which they costumed by Jamie Moore and Brandon Seavey, while Kocher and McElhaney still voiced the characters until 2017 (when different unknown actors are voicing them). The mascots were dropped in 2018. These costumes of the mascot are designed by Scollon Productions.
CHECK it 2.0
Main article: YEEEAUHHHH!
The CHECK it 2.0 or the YEEEAUHHHH! era is Cartoon Network's tenth look that debuted a year after CHECK it 1.0 was introduced on the same date. It was used alongside the CHECK it 1.0 look. This era is similar to the Yes! era as it uses a quote from Regular Show, much like the other one did by using a quote from The Grim Adventures of Billy & Mandy.
Its counterpart in Latin America and Europe was Block.
CHECK it 3.0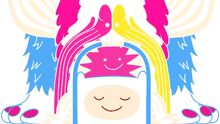 The CHECK it 3.0 look was introduced on May 20, 2013 and made a major overhaul to the design language. They featured updated next bumpers, as well as other interesting elements. They also made "GIF animation" bumpers from current series to be played on loop a few times with music. It was defunct on May 31, 2015 after 4.0 was introduced. This era was used in tandem with 3.5. The sign-on bumper was a morning background when Uncle Grandpa says "Good Morning." Although 3.0 brought a ton of new bumpers and branding, it still used minimal elements from the previous two CHECK it eras.
Although CHECK it 3.0 is defunct in the US, many other international feeds still utilize 3.0, some along with 4.0 and Dimensional.
CHECK it 3.5
CHECK it 3.5 or Are You CN What We're Sayin' was introduced in either June or July, (June for promos and July for promos for New Thursdays) of 2014. It didn't have the white background sometimes, but it did have yellow, blue and magenta backgrounds, this was used for New Thursdays promos and bumpers, and CN Sayin bumpers. This was likely a prototype for CHECK it 4.0. It was defunct in May 2015.
CHECK it 4.0
CHECK it 4.0 was introduced on June 1, 2015 and also introduced a major change in the design language after 3.0 was defunct. It features gradient-based backgrounds applied to bumpers. A new 'emoji' motif was introduced, where shows would be given their own styled emojis. The Next bumpers were revamped to be short clips of shows, accompanied by an emoji of the show in the corner of the screen.
CHECK it 4.5
CHECK it 4.5 was confirmed to be the Dimensional era in June 14, 2016. It featured a smaller but significant rebranding of Cartoon Network, with flat colors, and new bumpers. The up next bumpers are similar to 4.0, but without the emojis.
Gallery
Trivia
Like with its successor Dimensional era, the CHECK it era has many versions throughout its usage.
Tom and Jerry was the first show to air under the CHECK it era after Adult Swim signed out at 6:00am (during the end of Home Movies), and also the first show to be aired using the 2010 and current Cartoon Network logo.
See also
References