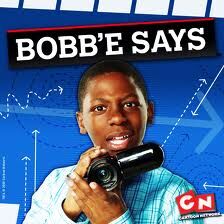 Bobb'e Says was a live-action clip/commentary series hosted by actor Bobb'e J. Thompson that aired on Cartoon Network from August 19, 2009 to September 23, 2009. It was a part of the short-lived CN Real block and it was Cartoon Network's shortest running live-action series, lasting only six episodes. The series, which featured Thompson exploring the streets of California and giving advice to local residents through the means of commentating over sports clips and internet videos, received negative reviews and low viewership levels; leading to the show's eventual cancellation.
Episodes
Episode

#

Title
Original

Airdate

1
Tony Hawk's Warehouse
August 19, 2009
2
Theme Park
August 26, 2009
3
Hollywood
September 2, 2009
4
Skate Park
September 9, 2009
5
Santa Monica Piet
September 16, 2009
6
Third Street Promenade
September 13, 2009
External Links
Cartoon Network Original Series
Community content is available under
CC-BY-SA
unless otherwise noted.