Ben Bocquelet (born 27 June 1980) is a French-English animator, director, writer, and producer. He is best known as the creator of The Amazing World of Gumball of which he also co-writes alongside James Lamont and Jon Foster. He was also the director of a short film called The Hell's Kitchen in 2003. When Cartoon Network Development Studio Europe was created in 2007, Ben Bocquelet was hired in order to help people pitch their projects to the network after dismissal of Nickelodeon and Jetix subdivisions of Europe. However, when the studio decided to have its employees all pitch their own ideas, he decided to take some of the rejected characters he had created for commercials and put them all in one series, with a school setting. Daniel Lennard, the Vice President of Original Series and Development at Turner Broadcasting UK, liked the idea and the series was ultimately greenlit.
The Amazing World of Gumball
After leaving Studio AKA, the creative director at Studio AKA encouraged Ben to join the new Cartoon Network studio in London, Cartoon Network Development Studio Europe. He received a job there helping other people pitch their ideas to Cartoon Network, and came up with his own idea while doing so. He pitched his idea to the producers. His idea was a show called Gumball about reject cartoon characters attending a remedial school, but producers felt this concept was too sad. He then revised this idea and made it more cheery, taking on the structure of a family sitcom. The producers liked this idea, and work went underway for what would become The Amazing World of Gumball. He named some characters after his relatives (Nicole, Richard, and Anais were named after his mother, father, and sister). The Wattersons themselves were named after Calvin and Hobbes creator, Bill Watterson.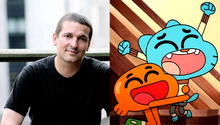 Community content is available under
CC-BY-SA
unless otherwise noted.