Ben 10: Season 1, Volume 1: Villain Time

Company
Warner Home Video
Show
Ben 10 (2017)
Release date
February 13, 2018
No. of discs
1
No. of episodes
20
Run time
220 mins
Rating
TV-Y7-FV
Region Code
1
Format
DVD
Ben 10: Season 1, Volume 1: Villain Time is a DVD release of the american Cartoon Network series, Ben 10 (2017). It contains 20 episodes of the series. It's released in North America on February 13, 2018.
Appearance
The DVD cover artwork shows Ben Tennyson about to hit his Omnitrix with all of his 10 alien forms in the background.
Episodes
"The Filth"
"Waterfilter"
"The Ring Leader"
"Riding the Storm Out"
"The Clocktopus"
"Take 10"
"Growing Pains"
"Shhh!"
"Brief Career of Lucky Girl"
"Animo Farm"
"Clown College"
"Adventures in Babysitting"
"Something I Ate"
"Steam is the Word"
"The Beast Inside"
"All Wet"
"Villain Time"
"Drive You Crazy"
"Tomorrow Today"
"Story, Bored"
Special Features
Gallery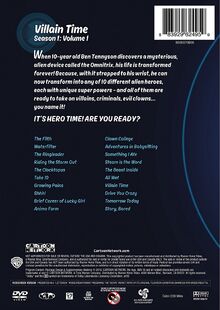 Community content is available under
CC-BY-SA
unless otherwise noted.