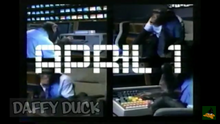 The April Fools' Day Monkey Marathon was an special 15-hour April Fools marathon that aired on Cartoon Network on April 1, 2003 from 8:00 AM to 11:00 PM, replaced Toonami, during April Fools' Day. The marathon shows the monkeys were taking over the network with the monkey-related episodes of the shows by the new network president, Jimbo.
However, the 24-hour Ape-Reel Fools Day marathon was on the Boomerang channel from April 1, 2008 to April 1, 2012 at 6:00 AM to 6:00 AM.
Community content is available under
CC-BY-SA
unless otherwise noted.