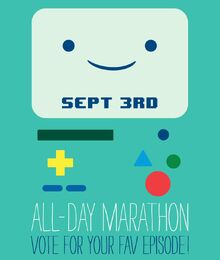 The Adventure Time All-Day Marathon (also known as The Ultimate Adventure Time Marathon) was an all-day marathon that aired on Monday, September 3, 2018 from 6:15am to 8:00pm. The marathon featured fan-favorite episodes of Adventure Time that fans have voted on Cartoon Network's social media platforms, such as Twitter, leading up to the series finale, Come Along With Me at 6pm, and an encore at 7pm.
During the finale, several trivia and references were shown, along with a special montage during the credits.
Schedule
6:15am - From Bad to Worse
6:30am - Jake vs. Me-Mow
6:45am - Marceline's Closet
7:00am - Five Short Graybles
7:15am - Burning Low
7:30am - King Worm
7:45am - Who Would Win
8:00am - Card Wars
8:15am - Jake the Dad
8:30am - Daddy-Daughter Card Wars
8:45am - Reign of Gunthers
9:00am - Fionna and Cake
9:15am - Bad Little Boy
9:30am - The Prince Who Wanted Everything
9:45am - BMO Lost
10:00am - James Baxter the Horse
10:15am - Jake Suit
10:30am - Bad Jubies
10:45am - Diamond and Lemons
11:00am - Memories of Boom Boom Mountain
11:15am - Food Chain
11:30am - The Duke
11:45am - The Other Tarts
12:00pm - Guardians of Sunshine
12:15pm - The Limit
12:30pm - Belly of the Beast
12:45pm - Conquest of Cuteness
1:00pm - Hall of Egress
1:15pm - It Came From The Nightosphere
1:30pm - Memory of a Memory
1:45pm - I Renember You
2:00pm - Simon and Marcy
2:15pm - Blood Under the Skin
2:30pm - Puhoy
2:45pm - Time Sandwich
3:00pm - Princess Day
3:15pm - City of Thieves
3:30pm - Princess Cookie
3:45pm - Jake the Brick
4:00pm - Too Young
4:15pm - Thank You
4:30pm - Mystery Train
4:45pm - What Was Missing
5:00pm - Rainy Day Daydream
5:15pm - Lumpy Space Trouble
5:30pm - Slumber Party Panic
5:45pm - The Enchridion!
6:00pm - Come Along With Me (SERIES FINALE)
7:00pm - Come Along With Me
Community content is available under
CC-BY-SA
unless otherwise noted.